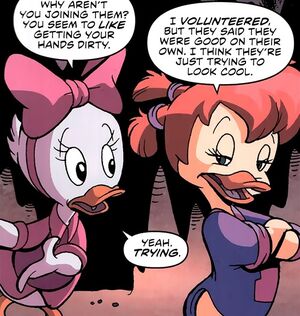 Webbigail "Webby" Vanderquack is the granddaughter of Bentina Beakley, who doubles as Webby's legal guardian. What happened to her parents is unknown. After Beakley found work in Scrooge McDuck's household in return for room and board, Webby became a companion of Huey, Dewey and Louie.
She is voiced by Russi Taylor.
Character
Background
In a future that will no longer come to pass but which aspects could still happen, Webby marries Doofus Drake.
Personality
Appearance
Fiction
Boom! Studios comics
Campaign Carnage, Part 4 Dangerous Currency, Part 1 Dangerous Currency, Part 2 Dangerous Currency, Part 3 Dangerous Currency, Part 4
Notes
Because Webby Vanderquack only appeared in Darkwing Duck as part of the cast of Dangerous Currency, which is pseudo-canon at best, she's technically not part of Darkwing Duck canon.
Ad blocker interference detected!
Wikia is a free-to-use site that makes money from advertising. We have a modified experience for viewers using ad blockers

Wikia is not accessible if you've made further modifications. Remove the custom ad blocker rule(s) and the page will load as expected.