This character or object lacks a canon designation. For a list, click here.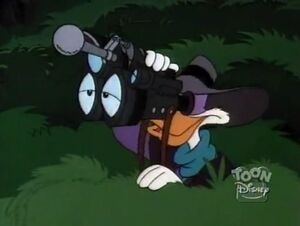 The ultraviolet binoculars were among Darkwing's gadgets until Derek Blunt destroyed them.
History
It is never explained where the ultraviolet binoculars come from, but SHUSH is the likely origin. The ultraviolet binoculars were lost due to Derek Blunt's actions In Like Blunt and it appears Darkwing replaced them with the infrapink ultrascan specs. Just Us Justice Ducks, Part 1
Fiction
Cartoon
After having already almost killed his mission colleagues and betrayed their location, Darkwing is forbidden to use any more gadgets without Derek Blunt's permission. He ignores the spy and whips out the ultraviolet binoculars. Blunt grabs them and dumps them along with most of Darkwing's gadgets in a pool. In Like Blunt
Ad blocker interference detected!
Wikia is a free-to-use site that makes money from advertising. We have a modified experience for viewers using ad blockers

Wikia is not accessible if you've made further modifications. Remove the custom ad blocker rule(s) and the page will load as expected.