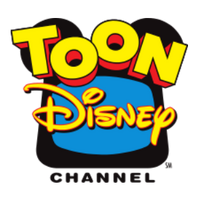 Toon Disney was a TV channel that aired from April 1998 to February 2009, when it was replaced with Disney XD.
1998-2004
Toon Disney aired episodes of Darkwing Duck from it's launch in 1998 until 2004, when the channel removed Darkwing Duck to make room for the then-new Jetix programming block.
2007
Darkwing Duck returned to Toon Disney (USA) one last time in 2007. The returned to Toon Disney was apart of the Toon Disney Wild Card Stack block.
Gallery
Ad blocker interference detected!
Wikia is a free-to-use site that makes money from advertising. We have a modified experience for viewers using ad blockers

Wikia is not accessible if you've made further modifications. Remove the custom ad blocker rule(s) and the page will load as expected.