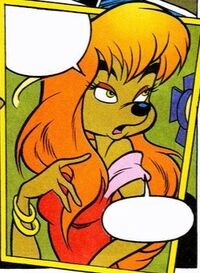 Sharee Rock is a talented but vain actress who enjoys great popularity.
Character
Background
Personality
Appearance
Fiction
The Disney Afternoon comics
Notes
Sharee Rock is named after Sharon Stone, a 20th century actress who acquired international recognition for her role in Basic Instinct, which Sharee's movie Basic Ingredients is a parody of.
Ad blocker interference detected!
Wikia is a free-to-use site that makes money from advertising. We have a modified experience for viewers using ad blockers

Wikia is not accessible if you've made further modifications. Remove the custom ad blocker rule(s) and the page will load as expected.