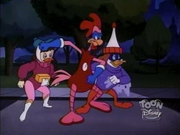 Clovis Clackenhoff was born a mutant with an elastic body. He put them to use as a superhero, the Rubber Chicken.
Character
Background
Personality
Appearance
Fiction
Cartoon
Notes
The Rubber Chicken appears to have its origin in a minimum running gag of rubber chicken appearances, which occur in "Calm a Chameleon" and "Days of Blunder".
The Rubber Chicken was proposed as one of the protagonists of the unproduced Justice Ducks series. He would've gotten a redesign to be more of a straightforward superhero and less of a parody one.
Ad blocker interference detected!
Wikia is a free-to-use site that makes money from advertising. We have a modified experience for viewers using ad blockers

Wikia is not accessible if you've made further modifications. Remove the custom ad blocker rule(s) and the page will load as expected.