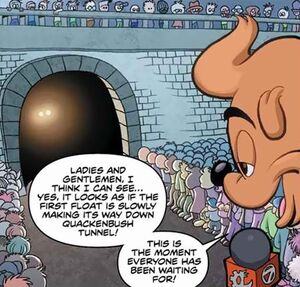 Quackenbush Tunnel is a tunnel that crosses underneath Audubon Bay Bridge on the city side.
History
The Quackenbush Tunnel is built into Audubon Bay Bridge and connects one harbor district with the other. It is presumably about as old as the historic bridge itself.
Fiction
Joe Books comics
With the crowd eagerly waiting at the end of the Quackenbush Tunnel for the arrival of the Main Street Lit-Up Electrical Parade, no one suspects that the parade has been hijacked by Megavolt until the lead float comes rushing out at high speed. Orange Is the New Purple, Part 1
Ad blocker interference detected!
Wikia is a free-to-use site that makes money from advertising. We have a modified experience for viewers using ad blockers

Wikia is not accessible if you've made further modifications. Remove the custom ad blocker rule(s) and the page will load as expected.