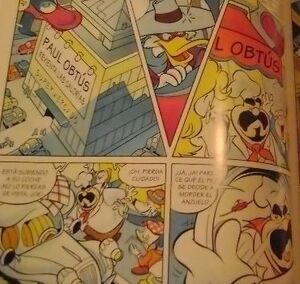 Paul Obtús is a chef with his own restaurant. He's also an enemy of Darkwing Duck.
Character
Background
Personality
Appearance
Paul is a walrus.
Fiction
Disney Europe comics
Notes
Paul's name presumably is inspired by and a reference to the 1968 song "Glass Onion", which contains the lyrics "The walrus was Paul.". "Obtus" is French for "obtuse".
Ad blocker interference detected!
Wikia is a free-to-use site that makes money from advertising. We have a modified experience for viewers using ad blockers

Wikia is not accessible if you've made further modifications. Remove the custom ad blocker rule(s) and the page will load as expected.