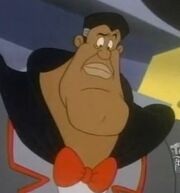 Official Guy was a superhero native to the planet Mertz. As his name suggests, he was the official leader of the planet, his superhero costume consisting of a caped tuxedo. He served as master of ceremonies and presented Darkwing Duck with the key to the city upon his arrival. When Darkwing protested Comet Guy's insistence that he would be the perfect candidate to replace the missing Ordinary Guy, insisting that he too was a superhero, Official Guy expressed doubts, believing that Darkwing couldn't be a superhero without superpowers. Sometime later, Official Guy's powers were stolen and absorbed by Ordinary Guy when he returned and revealed himself as the villainous "Not-So-Ordinary Guy" (later Extraordinary Guy), but Darkwing was able to defeat him and return Official Guy's powers.
Character
Background
Personality
Appearance
Fiction
Cartoon
Ad blocker interference detected!
Wikia is a free-to-use site that makes money from advertising. We have a modified experience for viewers using ad blockers

Wikia is not accessible if you've made further modifications. Remove the custom ad blocker rule(s) and the page will load as expected.