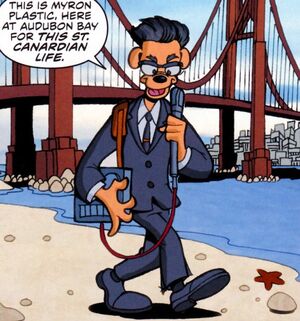 Myron Plastic is a reporter for This St. Canardian Life. He's dedicated, but could've done with more self-preservation awareness in his personality.
Character
Background
Plastic presumably was both the host and producer of This St. Canardian Life. It is unknown if anyone succeeded him after his disappearance at the hands of Paddywhack or if his radio program was ended too.
Personality
Not one to be scared away from a story as easily as several of his colleagues, Plastic's career is as powerful as it is short.
Appearance
Plastic is a thin dog on the tall side of medium height. He has black hair and wears glasses and suits.
Fiction
Boom! Studios comics
Plastic is the main investigative journalist in the case of the peculiar condition of the water of Audubon Bay and the people near it going missing. He's recording a report on the spot when the water rises up and swallows him. Crisis on Infinite Darkwings, Part 2
Joe Books comics
Crisis on Infinite Darkwings, Part 2
Notes
Ad blocker interference detected!
Wikia is a free-to-use site that makes money from advertising. We have a modified experience for viewers using ad blockers

Wikia is not accessible if you've made further modifications. Remove the custom ad blocker rule(s) and the page will load as expected.