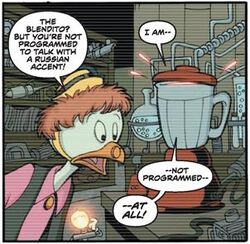 Gyro Gearloose is an inventor who lives in Duckburg and works for Scrooge McDuck. Created by Carl Barks in 1952, he first appeared in Walt Disney's Comics and Stories #140 in the story "Gladstone's Terrible Secret". Ever since then he had a prominent role in the Duck Universe, including appearing regularly on DuckTales. He invented lots of inventions but his most famous invention are Little Helper and the Gizmosuit.
On DuckTales, Gyro was voiced by Hal Smith, who passed away in 1994. He has since been voiced by Corey Burton (in the video game Donald Duck: Goin' Quackers!) and Chris Edgerly (in DuckTales Remastered).
Character
Background
Personality
Appearance
Fiction
Boom! Studios
Darkly Dawns the Duck, Part 4 Dangerous Currency, Part 1 Dangerous Currency, Part 2 Dangerous Currency, Part 3 Dangerous Currency, Part 4
Gyro's collection of inventions includes the aforementioned Little Helper, the Millennium Shortcut, a time machine through which Bubba joined the McDuck household, the Gizmosuit, which turns Fenton Crackshell into Gizmoduck, and the robots Armstrong, GICU-2, and Robotica.
Joe Books
Notes
Ad blocker interference detected!
Wikia is a free-to-use site that makes money from advertising. We have a modified experience for viewers using ad blockers

Wikia is not accessible if you've made further modifications. Remove the custom ad blocker rule(s) and the page will load as expected.