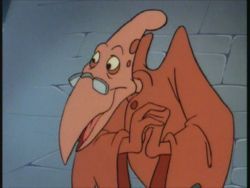 Dr. Fossil is a Pterodactyl who was originally a duck who was turned into a dinosaur. He is the creator of Stegmutt.
Dr. Fossil is voiced by Barry Gordon.
Background
Dr. Fossil was once a paleontologist who worked at the Natural History Museum in St. Canard. Due to his love of dinosaurs, he turned himself into a Pterodactyl using a retro-evolution gun.
Character
Background
Personality
Appearance
Fiction
Cartoon
Joe Books comics
Dr. Fossil becomes incarcerated in the new maximum security jail in St. Canard. Along with all other inmates, he is freed from his cell by Negaduck to hunt down a locked-in Darkwing. Orange Is the New Purple, Part 1