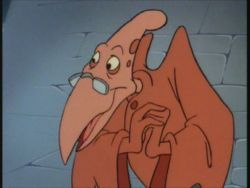 Once a paleotologist employed at the St. Canard Natural History Museum, Dr. Fossil took his fascination with everything dinosaur to the extremes only a mad scientist can. He is the creator of the retro-evolution gun and has used it to mutate himself into a pterodactyl; a form which has granted him flight.
Dr. Fossil is voiced by Barry Gordon.
Background
Dr. Fossil was once a paleontologist who worked at the Natural History Museum in St. Canard. Due to his love of dinosaurs, he turned himself into a pterodactyl using a retro-evolution gun.
Character
Background
Personality
Appearance
Fiction
Cartoon
Joe Books comics
Dr. Fossil becomes incarcerated in the St. Canard Maximum Security Prison for the Criminally Crafty. Along with all other inmates, he is freed from his cell by Negaduck to escape en masse and to hunt down a locked-in Darkwing. Orange Is the New Purple, Part 1 Orange Is the New Purple, Part 3
Ad blocker interference detected!
Wikia is a free-to-use site that makes money from advertising. We have a modified experience for viewers using ad blockers

Wikia is not accessible if you've made further modifications. Remove the custom ad blocker rule(s) and the page will load as expected.