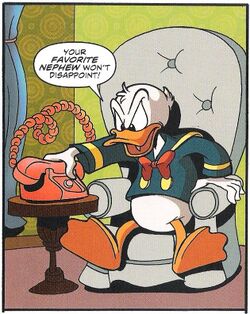 Donald Duck is Disney's Second most famous character. He first appeared in The Silly Symphony cartoon titled The Wise Little Hen.  He appeared in a few Mickey Mouse cartoons as a supporting character and then got his own headline cartoon. Some of Donald's supporting characters include his girlfriend Daisy Duck, his nephews Huey Dewey and Louie, his uncle Scrooge McDuck, his inventor friend Gyro Gearloose and many other characters.
Character
Background
Personality
Appearance
Fiction
DuckTales
Donald lands a job at the navy, which means that he can no longer personally take care of Huey, Dewey and Louie. Therefore, he hands custody over to Scrooge McDuck, who is the only he entrusts them to. He does visit them when off-duty and Scrooge's financial influence allows him and the boys to visit Donald whenever they please. Through this, the family has stood together against various high level criminals, such as the Phantom Blot and Cinnamon Teal. DuckTales
Cartoon
Boom! Studios comics
Dangerous Currency, Part 2 Dangerous Currency, Part 3 Dangerous Currency, Part 4
Ad blocker interference detected!
Wikia is a free-to-use site that makes money from advertising. We have a modified experience for viewers using ad blockers

Wikia is not accessible if you've made further modifications. Remove the custom ad blocker rule(s) and the page will load as expected.