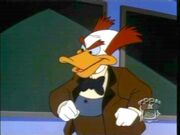 Dean Tightbill is the penny-pinching dean of St. Canard University. He cut Dr. Reginald Bushroot's funding because his experiments weren't profitable. As a result, Bushroot sought revenge against him and Dean Tightbill was placed under the protection of Darkwing Duck. Bushroot sent an enormous tree to break into the Dean's office and kidnap him, but Darkwing distracted the tree long enough for Tightbill to escape.
Character
Background
Personality
Appearance
Fiction
Cartoon
Ad blocker interference detected!
Wikia is a free-to-use site that makes money from advertising. We have a modified experience for viewers using ad blockers

Wikia is not accessible if you've made further modifications. Remove the custom ad blocker rule(s) and the page will load as expected.