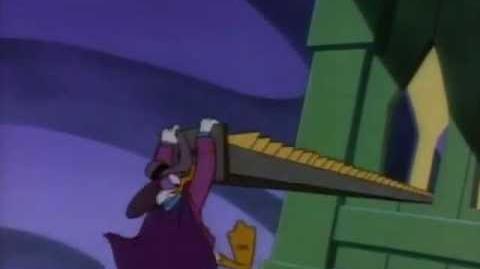 "Darkwing Duck" is the theme song of the cartoon series of the same name. There are many versions of it, both within the English language and between languages.
Development
The Spanish version of the song is called "El Pato Darwing" (sometimes spelled Darkwing or Darwin) is the Spanish name for Darkwing Duck and is the title of the Spanish version of the song. It is sung by Ricardo Silva and appears in an album of that artist in which he sings various TV themes including some of other Disney Afternoon TV shows. Other themes also included in that album include the themes to DuckTales, TaleSpin, and Chip 'n Dale Rescue Rangers (the full versions of the themes) as well as Disney's Adventures of the Gummi Bears and The New Adventures of Winnie the Pooh (the TV length of the themes). Like the English version, the full version is the same length as the TV show's theme. The Spanish version of Darkwing's "Let's Get Dangerous" line is "Hay que intentar la acción".
Ad blocker interference detected!
Wikia is a free-to-use site that makes money from advertising. We have a modified experience for viewers using ad blockers

Wikia is not accessible if you've made further modifications. Remove the custom ad blocker rule(s) and the page will load as expected.