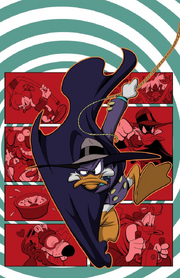 The Joe Books run of Darkwing Duck comics was unofficially announced on October 22, 2014 and officially announced on January 18, 2016 following a year-long delay. Its point of origin is the The Definitively Dangerous Edition, a near-complete collection of rewritten comics by Boom! Studios.
Unfortunately, despite positive reception from critics and fans, the comic sold poorly and was cancelled after a mere eight issues. As a result, many plot threads in this series never, ever be resolved.
Darkwing Duck comics
Republications
The original information on the trade paperbacks, known as the Darkwing Duck Comics Collection, by Joe Books was that they would collect six issues each. Therefore the intent was to make sure at least every sixth issue closed its story.[1] However, this plan had to readjusted by the time of the release of the third issue, because the "quick sell-out of the first three issues necessitated getting a trade put together quickly, so readers who missed the monthly offerings could get on board in time to jump on with 5 and beyond."[2]
| | | | |
| --- | --- | --- | --- |
| Number | Arcs | Issues | Date |
| 01 | 1-2 | 1-4 | December 28, 2016 |
References
Ad blocker interference detected!
Wikia is a free-to-use site that makes money from advertising. We have a modified experience for viewers using ad blockers

Wikia is not accessible if you've made further modifications. Remove the custom ad blocker rule(s) and the page will load as expected.