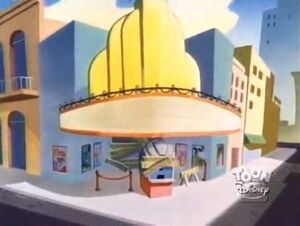 The Canard Multiplex Theater is an abandoned movie theater in St. Canard. It is the primary hideout of Tuskerninni and his penguins.
History
The Canard Multiplex Theater either has not been abandoned for very long or Tuskerninni makes a priority of maintenance. While disorderly in a few ways, all of its equipment still functions and is in good condition. A Duck by Any Other Name Presumably, the reason it got abandoned was the construction of a new building for the Canard Multiplex Theater's business, as there's a nearly identical movie theater elsewhere in St. Canard. Negaduck It is not the only hideout Tuskerninni has, but it is his main one.
Fiction
Cartoon
Ad blocker interference detected!
Wikia is a free-to-use site that makes money from advertising. We have a modified experience for viewers using ad blockers

Wikia is not accessible if you've made further modifications. Remove the custom ad blocker rule(s) and the page will load as expected.